Mohit Textile Mills: A Trustworthy Name
We are being trusted by the patrons since
2007
for buying high-quality
Cotton Greige Fabric, Blended Woven Fabrics, Blended Woven Greige Fabrics, Woven Greige Fabric,
etc. We maintain complete transparency while having a business deal with our clients. Further, at our enterprise, we follow the policy of no compromise on the quality of our offerings. It is due to the dedicated efforts of our experts and support of our vendors that we have been successful in enrolling our name in the list of reliable entities.
Our Strengths

Quality: Quality is an uncompromising factor at MTM where we first understand client's requirements and then design and deliver products as per the needs. We ensure satisfied repeat clientele by achieving and exceeding client's expectations.
Timely Execution: MTM believes in undertaking and facing new challenging yet timely delivery schedules. Depending on different factors, schedules will be communicated and order is completed within the specified time frame.

Why Us?
We are the most suitable and best company one can associate with for business dealings and the reasons behind them include:
The price charged by us for Cotton Greige Fabric, Cotton Grey Fabric, Grey Fabric, Woven Grey Fabric etc is highly reasonable.
The quality of our products is extremely high as they are manufactured under the stringent industrial norms.
We ensure that our clients receive the delivery of their orders on the scheduled time without any delay.
We maintain complete transparency while having business deals without esteemed customers.
Vast product knowledge
Complete understanding of the needs of the clients needs
Best fabric design and development facility
Diverse manufacturing capability
Technically qualified & knowledgeable team to service the customer needs
Deliver excellence and professionalism
Unmatched organizational strength with vast back-up to execute vast institutional orders
High-end product development
Sampling is done commercially

Modern Machines
The installed machines help us to accomplish the task within minimal time, thereby, making timely deliveries. Further, we keep on upgrading our machines in lines with the latest versions of technology and service them timely which help us to eliminate the downtime from the company. We have modern and ISO 9001:2015 certified weaving facility to develop more than 10 million square meters fabric per year with the following State-of-the-Art equipment:

Dornier A1 – FT Airjet in 390 cms width having batching motions focused in weaving fault-free synthetic lamination grade fabrics in different roll sizes up-to 2000 meters along with 4 pick insertion capability with fabric weights up-to 18 Oz.
Fabric ranging from Poly-cotton, Polyester, Cotton, Viscose Fibers etc.
Facility for Roll to Roll inspection having online cleaning & brushing to ensure crease free & seamless rolling upto 2500 meters in single piece.
Heavy Duty Prashant Gamatex Warping machine for a range of industrial fabrics
Modern Benninger Direct Warping & Sizing machine for fine count sizes up to Ne100s warp.
Multi-width weaving facility is available for widths from 18" to 148" wide having Tuck-in selvedge & Leno/Fringe Selvedge options.
Picanol Omniplus Summum Airjet machines having Batching motions, Double Pick insertion, Lycra attachments, and Pneumatic Air Tuckers in different widths from 190cms to 280 cms.
Sulzer Projectile P7100 machines having batching motions in 360cms & 390cms width, Double Pick insertion as well as 18-shaft Dobby.
Vast weaving capability with wider width Projectiles & Airjet weaving machines having multiple widths from 190cms to 390 cms.
Yarn Count ranging from Ne 3/8s to Ne 80s.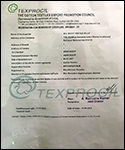 Get in touch with us